Thermocouples for Temperature Management
THERMOCOAX is a large thermocouple manufacturer for complex industry like aircraft engine, heavy duty gas turbines and SOFC fuel cells.
We develop and provide thermocouples up to 2300°C. We play with the cable sheath material to fit with harsh environment on machines. For applications up to 1000°C, we offer K and N type thermocouples, class 1, from diameter 0.25 to 6mm. For high temperature, we offer S, R,B and C type Ø0.7mm up to 3mm.
Stainless steel and inconel are the typical sheath materials provided. But we also work with specific materials like Haynes 214 or 230. With Haynes 214 we supply thermocouples for combustion chambers ;  with Haynes 230 we supply fuel cells. Thermocouples with Haynes 120 sheath are used on exhaust lines when the sulphur is unusually high
High Thermocouples Quality
Their high quality is demonstrated by the mineral insulated cable manufactured in house. We offer 100% traceability up to the raw material. We provide thermocouples for testing and qualification programs but also production thermocouples. We have achieved the 24 000 operating hours requested by the market.
Engineering
We have engineers dedicated for these thermocouple applications. We offer engineering support for customizing the thermocouple,  building rake thermocouples.
Calibration :
100% of the thermocouple cable manufactured in house is controlled in our NIST-approved temperature laboratory. We have the capability of calibrating by fixed points up to Silver icing point 961.78°C or up to 1300°C by comparaison.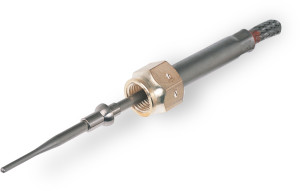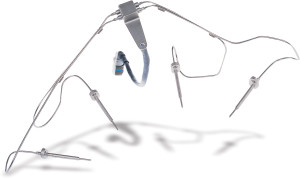 Key Parameters :
 – E, T, J, K , N type 
From Ø0.25 up to 6mm
Swaged tip down to 0.17mm for fast response time
Duplex or triplex design for redundancy
Insulator MgO
Insulation resistance >1012Ω.m
SS304,SS316, SS321, I600, I625, Haynes, Nimonic 75
Bending radius 3 times the diameter
Class 1
NIST calibration
- Compliance with ASTM608, IEC584
High Temperature Thermocouples Key Parameters
-S, R D B or C type
-Insulator beryllium or hafnium oxide
-Sheath alloy: 
Tantalum
Molybdenum
Rhenium
Niobium
Platinum
Tungsten-rhenium, refractory alloy is the only solution above 1700°C for long-time use.
Description of Thermocouple Applications : 
for low and high pressure turbine
for bearing, exhaust temperature monitoring
for fire detection
Flash back thermocouples
Haynes 230 thermocouple to control temperature in SOFC fuel cell stack
Customized rake thermocouples for exhaust diffuser