High Temperature Capacitance Sensors for Gas Engines:
New generations of gas engines are increasingly complex. The internal temperatures are higher and the engineers are seeking materials and capacitance sensors able to withstand these new parameters.
Capacitance sensors is a technology available to run blade tip clearance, blade tip timing and debris monitoring to improve the efficiency of the gas turbine.
THERMOCOAX is a key player in capacitance sensors up to a working temperature of 1300°C for gas engine OEMs to improve the efficiency by monitoring clearance and lifetime from the blade vibration and debris monitoring.
Based on a 1550°C brazing metal/ceramic assembly, no cooling is required. The test engineers will save time and reduce the cost of operation.
Capacitance Sensor Technology :
The strategic technology developed by THERMOCOAX offers a large range of designs to fit where space is a premium.
1300°C sensitive parts are manufactured based on a ceramic/metal brazing knowhow developed and qualified by the Thermocoax R&D team.
The sensitive parts of each capacitance sensor receive a body designed to fit exactly the space available on the machine.
Signal transmission is done by high quality triaxial mineral insulated cable manufactured in house. The small cable diameter, down to 1.5mm is a great advantage for integration on machines.
The triaxial technology offers a good screen against electrical and magnetic disturbance.
THERMOCOAX offers a full traceability of the complete sensors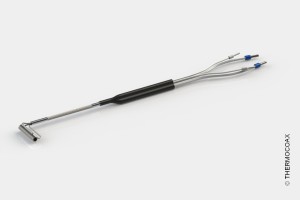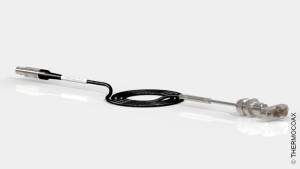 Capacitance Sensors Key Parameters :
Full Triaxial Technology 800°C Capacitance Sensor :
Triaxial sensor and triaxial cable
Adapted for static and dynamic mode
Fully shielded from electrode to cable connector
Electrode and body Inconel 600
800°C working temperature
1100°C peak temperature
Electrode Ø3mm to 7mm
Range up to 10mm
1% accuracy average
Pseudo Triaxial Technology 800°C Capacitance Sensor :
Coaxial sensor and triaxial cable
Adapted for dynamic mode only
Electrode and body Inconel600
800°C working temperature
1100°C peak temperature on face
Electrode Ø1.5mm to 5mm
Available in dual electrode version for highly accurate tip timing measurement
Pseudo Triaxial Technology 1300°C Capacitance Sensor :
Coaxial sensor and triaxial cable
No cooling system required
Adapted for dynamic mode only
Electrode platinum and body Inconel600
1300°C working temperature
1400°C peak temperature on face
Electrode Ø4.25
Capacitance Sensor Expertise :
15 years experience in gas turbines
More than 5000 sensors used by our customers
Participated in major European and American aero gas engine developments and qualifications
Commercial and military platforms
Over 250 debris monitoring capacitance sensors currently flying on board military platforms